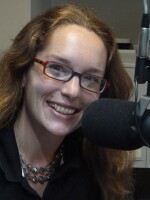 Valarie Smith
Program Host, Songbirds
As an avid world traveler and galivanter, Valarie never lost sight of which way was home. A Native to Western Kansas, she has been pursuing a life long career in the many forms of expressive arts including radio, photography, videography, graphics and design. Graduating from Western State College with a bachelors in Art, Valarie once again returns to percolate her love for High Plains Public Radio. Involved with HPPR since 2006, an inquiry about a drive way moment landed her a position as local host of Weekend Edition. Having worn many hats at HPPR, from Director of Development to regional program producer, Valarie now remains in the HPPR family as the host of Songbirds. (Oh, and she is currently pursuing a career in mental health counseling, so stay tuned for more wonderful developments with this High Plains hero.)

A few weeks ago on SONGBIRDS, I reached a magical milestone: an interview with one of my favorite singer/songwriters, Ron Pope. We talked about his new…

Hey, Garden City! This just in : catch Kansas folksinger Sky Smeed LIVE in concert on THURSDAY, Nov. 14th at Garden City Community College's Beth Tedrow…

Thanks so much to Lawrence Hoerman and Buddy Laws for sharing some time with HPPR today in support of the Garden City Municipal Band concert series going…

This week on Songbirds, host Valarie Smith shares the peculiar way she was introduced to the music of Patty Griffin. Enjoy a little spoken word about…

The final farewell to an adventure well lived…

We are meeting with a young El Salvadoran, who has allegiance to his native country, while trying to fit in the best he can in our North American culture.

My taste buds are still seeking out food from Central America, so I am visiting an El Salvadoran restaurant in Garden City to appease my pupusa craving.

Airports and Arrivals… the journey home begins.

We are sitting down on the shore of the largest lake in El Salvador, Lake Coatepeque, to watch the sun set behind the mountains as we say farewell to our…

In part two of exploring Mozote, we will meet with two local men to hear their touching stories of the massacre and the civil war of El Salvador.