This Kansas City river is in trouble. Every April, people turn out in droves to help it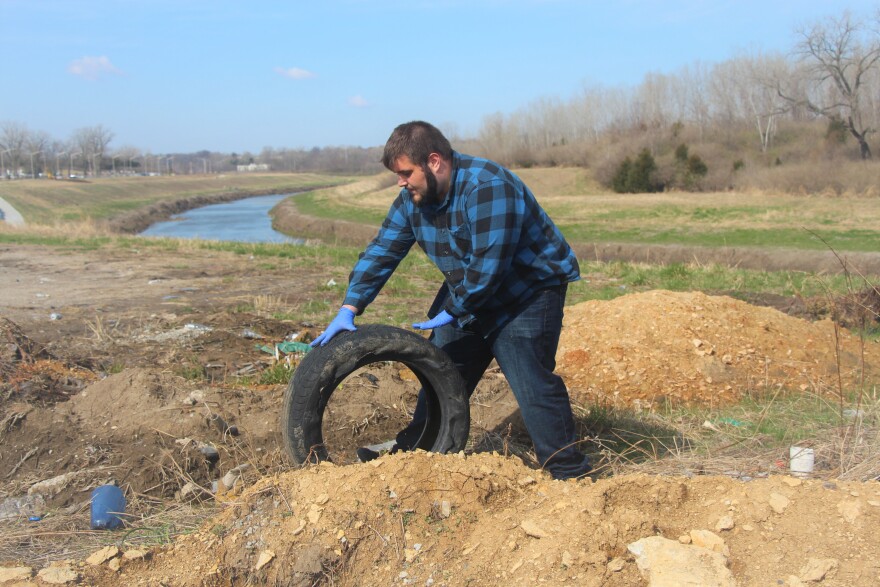 The rooftops, pavement and lawns surrounding the Blue River and its creeks take a toll. Efforts to clean it up and restore native vegetation could help.
On a warm morning last April, several hundred people fanned out along a waterway in Kansas City.
In the span of a few hours, they collected about 30 tons of garbage along the Blue River.
The annual effort takes on the visible scars of overdevelopment and neglect, removing nearly 2,000 tons of litter and illegally dumped trash over the past three decades.
Volunteers will again roll up their sleeves this year — on April 1 — for Project Blue River Rescue, a tradition that began with the Friends of Lakeside Nature Center and a local chapter of the Missouri Stream Team program.
Litter and garbage illegally dumped in this watershed can travel many miles, emptying into the Missouri River and even traveling on to the Gulf of Mexico.
"Just the amount of plastics around this area," Armondo Alvarez said last April while gathering soda bottles and candy wrappers, "is very unsettling."
Alvarez was one of several people from Heartland Conservation Alliance, one of many local groups and businesses that pitch in to haul away tires, toys and household appliances year after year.
Coco Chiu, an 11-year-old volunteer, pointed to the three garbage bags she had helped fill and lamented that most of the contents were not biodegradable.
"It's depressing that it's happening," Coco said. "Sometimes I'd rather be ignorant."
A less-known river
The Nature Conservancy calls the Blue River "Kansas City's river."
It starts near the Overland Park Arboretum and cuts northeast, flowing 40 miles to the Missouri River.
Anytime rain falls on the metropolitan area, most of the water ends up here.
That's because, for miles around, every stream and creek flows toward the Blue River, creating a basin that covers nearly 300 square miles in three counties (Johnson in Kansas and Jackson and Cass in Missouri).
More than 500,000 people live in this two-state watershed, about 60% of which is in Kansas.
But the Blue and its tributaries need help. Housing, agriculture and businesses have crowded the basin, riverbanks and creek banks over the decades.
All those rooftops, pavement and lawn mean there's less penetrable ground to absorb rainfall. So during a storm, more water rushes toward the Blue River — and faster. The river banks and the plants and creatures that live there take a beating.
Rain pummeling oil-stained streets and fertilizer-laced lawns picks up chemicals and carries them into the river. And pesticides wash off Johnson County farmland into tributary creeks.
In some areas, developers removed many or all of the native trees, shrubs and grasses that lined the river and creeks and could have eased the toll of pollution and erosion.
Floods and water quality
When heavy rains pound the area, the price of too much concrete and too few trees, shrubs and native grasses becomes clear.
"Mother Nature's always finding a way to get back to what it used to be like," Heartland Conservation Alliance program manager Magali Rojas said while helping with the cleanup. "One of the biggest problems that we see here in Kansas City is flooding."
Dramatic flooding along Indian Creek trapped two people inside a bar at the intersection of 103rd Street and Wornall Road in 2017. Rescuers pulled them through the roof.
Later, Kansas City bought the land and tore down the strip mall to make way for green space that could help absorb rainfall.
Indian Creek is part of the Blue River watershed. Other tributaries include Brush, Tomahawk, Coffee, Wolf and Camp Branch creeks.
Healthier creeks and a healthier Blue River would feed cleaner water into the Missouri River, the single most important source of drinking water in the state of Missouri.
The annual Project Blue River Rescue in April represents a sliver of the work needed toward that end.
Efforts are underway to preserve or restore native plant corridors along the Blue and its tributaries to mitigate pollution, erosion and flooding.
Oak, pecan, cottonwood and pawpaw trees can do yeoman's work by deploying deep root systems into the earth.
The Nature Conservancy works with private landowners to protect some land in Johnson County, where development is encroaching fast on the Blue River's dwindling natural surroundings.
The Missouri Department of Conservation, Heartland Conservation Alliance, Kansas City and other groups and agencies are restoring wetland, marshes and woods to downstream areas that were heavily industrialized.
But the challenges pile up faster than the solutions.
Rapid development in the Martin City area and Johnson County continues to replace penetrable ground with yet more pavement, rooftops and lawns.
A quarter of the land in that upstream segment of the river system remains undeveloped, but not for long.
"The Upper Blue River is expected to be completely built out by 2030," a biannual report on the state of the river warns. "With rapid development and lack of public awareness, creeks and rivers will no longer support wildlife, flooding will cause significant damage, and once-pristine natural areas will be lost."
The Heartland Conservation Alliance publishes the report with The Missouri Department of Conservation and The Nature Conservancy.
To attend the Blue River cleanup on April 1, register online. Details about the event are available here.
Correction: An earlier version of this story misspelled Coco Chiu's last name.
Celia Llopis-Jepsen covers the environment for the Kansas News Service. You can follow her on Twitter @celia_LJ or email her at celia (at) kcur (dot) org.
The Kansas News Service is a collaboration of KCUR, Kansas Public Radio, KMUW and High Plains Public Radio focused on health, the social determinants of health and their connection to public policy.
Kansas News Service stories and photos may be republished by news media at no cost with proper attribution and a link to ksnewsservice.org.