Fewer Oklahoma quakes in the next few years, study suggests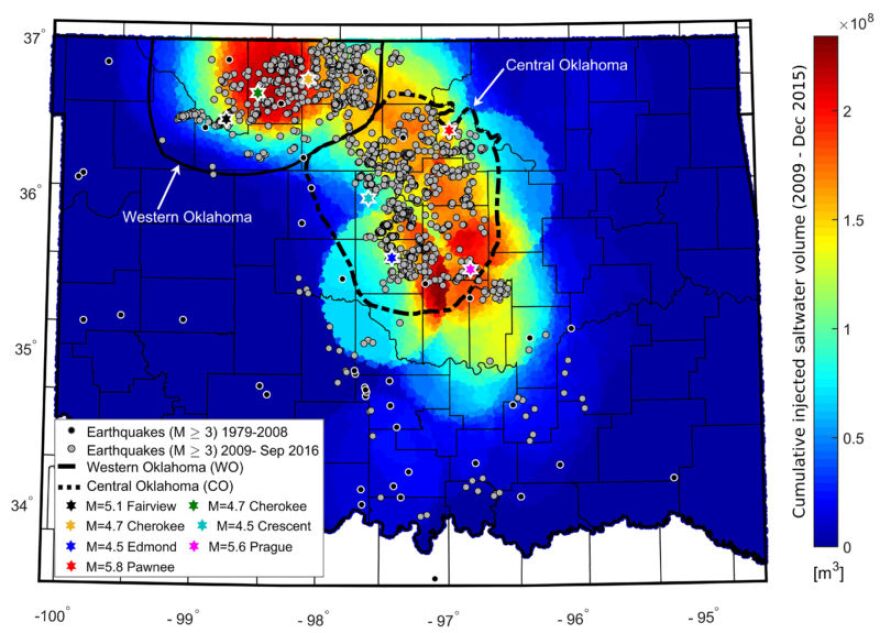 Oklahoma could be in for a lot less shaking according to a research study that shows earthquake activity slows as wastewater injection is reduced.
According to StateImpact, in a paper published in Science Advances, Stanford University geophysicists Cornelius Langenbruch and Mark Zoback built a new statistical model that suggests the shaking could taper off after this year because Oklahoma's injection rates started dropping when oil prices dropped and because of limitations put into place by state regulators to lower injection rates in quake-prone regions of the state.
The research also found a threshold at which the amount of injected wastewater is likely to trigger earthquakes, StateImpact reports, and the two scientists wrote that it should be possible to limit the amount of wastewater injected to a point at which it would not cause faults to slip.
The findings also could help the U.S. Geological Survey to better estimate earthquake hazards for building designers and public safety officials by fine-tuning the maps it creates for that purpose.
While the research doesn't suggest that larger quakes like the 5.8 magnitude quake that shook the Pawnee area in September or the 5.0-magnitude quake near Cushing last month are less likely to occur, it does suggest that if wastewater injection rates remain low, Oklahoma's shaking could subside in the next few years.